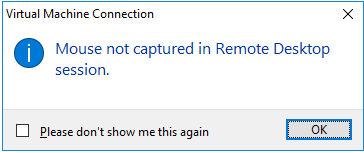 If you're creating a base Windows 7 VM in Hyper-V, you might have noticed the above error message. It says "Mouse not captured in Remote Desktop session." The base version of Windows 7 does not natively support mouse control in Hyper-V.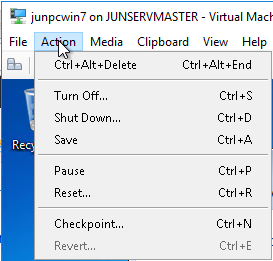 If you're lucky, you can click Action -> "Insert Integration Services Setup Disk" to solve your problem. If you're like me though, no such luck. Clicking Action doesn't give the same option. The good news is that you can still insert the Setup disk, you'll just have to do it manually. I myself wasn't able to find out where the setup disk is stored (the locations I found on Google were wrong), but I was amazingly able to download the setup disk from some Samaritan's google drive account (scroll to the bottom). Insert that disk into your VM, run the setup, and voila! You can start using a mouse again. Just remember that the tab and enter keys are your best friend.
Notes:
If you don't see the option for "Insert Integration Services Setup Disk" in Hyper-VM, just download the disk and use it manually.
Don't use Windows 7 Home Premium, it sucks. You can't even remote into it, or join it to a domain.