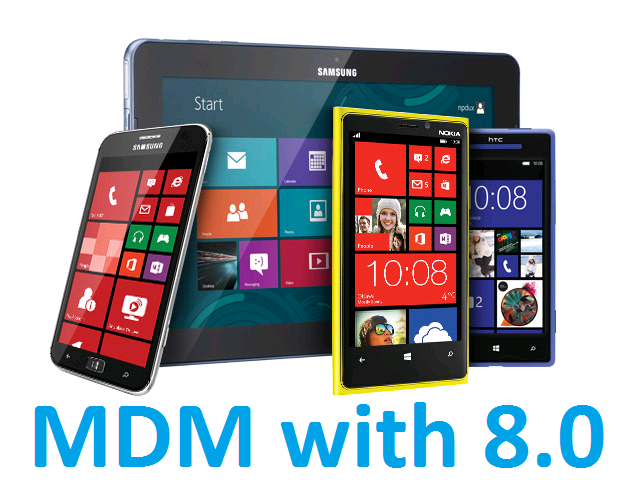 Hello excited MDM implementers! You may be wanting to implement BYOD at your company, and want to accommodate Windows Phone 8.0 devices. Well, just remember that Windows Phone devices have been around for a while now, and unfortunately each iteration released has different capabilities!
Windows Phone 7 – announced on February 2010, this version has zero MDM capabilities. If you have any users that use Windows Phone 7, tell them to upgrade immediately!
Windows Phone 8.0 – The first version of Windows Phone that had any MDM capabilities at all, this version was announced in October 2012. Unfortunately the MDM implemented was extremely bare bones. You can pretty much only view device information, and that's it. There was no centralized system to link servers to devices via push commands, which meant you couldn't even send lock commands! Windows 8 actually does support push notifications, but only in the form of MPNS, which is not compatible with MDM.
Windows Phone 8.1 – announced on April 2014, this iteration is the first one that can be really seen as "MDM manageable." This is the first version that links up with WNS, Microsoft's version of APNS or GCM. That means this is the first version of Windows MDM that allows admins to send out MDM commands to devices.
Windows 10 Mobile – announced on January 2015.
As you can see, Windows Phone 8.0 is extremely limited compared to its updated versions. You can enroll Windows 8.0 devices into certain MDM systems, like SAP Afaria, but if you try to send any commands then you will get an error. For Afaria, for example, you will get the following error (SAP KB 2153959):
ONS5001: WNS for client '<GUID>' is currently not supported.
If you can't even send commands to a device, is it really being managed? Airwatch does make a Windows Phone 8 MDM agent available, but the main thing it really does is scan the device to make sure that it is compliant. If you want to implement BYOD at your company, the best thing I can advise you to do is to restrict users to Windows 8.1 Phones and up.