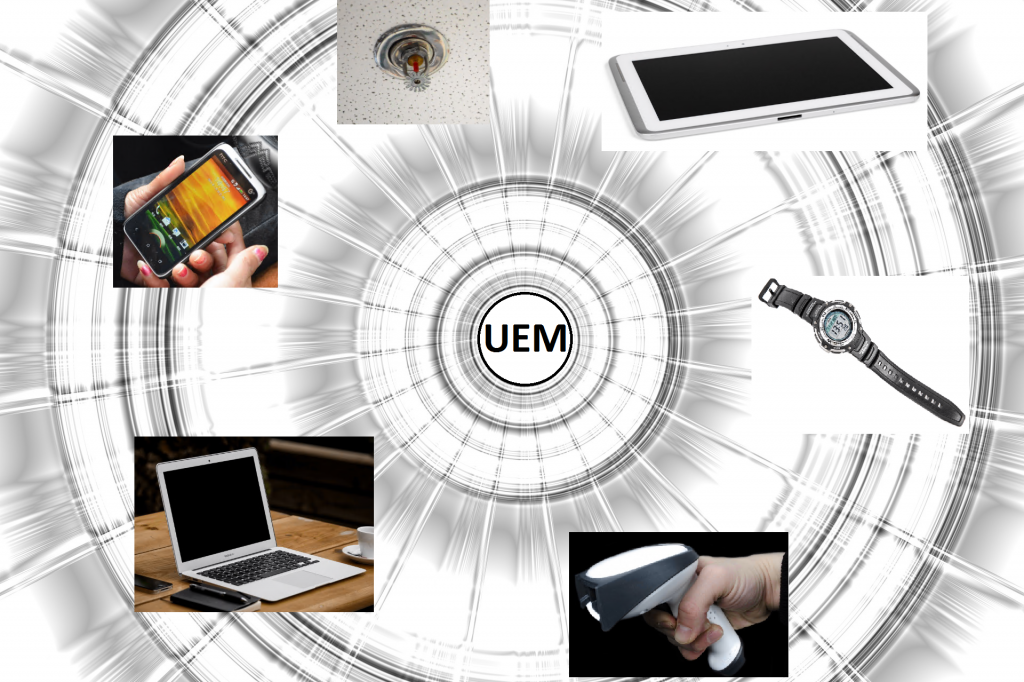 When it comes to mobile device management there are so many acronyms that it's kind of ridiculous. What is even more ridiculous is that the majority of these acronyms tend to stay, so you can't really ignore them as they come along. Terms like MDM, BYOD, MAM, and IoT, for example, have all become fairly prevalent (though terms like MIM have become mostly ignored).
There's been some new buzz around the term UEM, and one of the major sources is this article by securityintelligence. I don't like to waste time, so I'll cut to the chase: UEM stands for unified endpoint management, and what it really means is that you will have one "unified" central point for managing all devices within a company. You may ask, "well isn't that just an MDM/MAM solution? Airwatch and other vendors are able to manage a multitude of devices." That's a valid question, and in fact I was confused about that for a while as well. It became clear to me when I was reading this:
There was a singular event that allowed UEM to turn the corner: Microsoft provided an API function resembling MDM for lightweight management of Windows 10 devices in July 2015. This opened the door for consistent management abilities across all device form factors, including smartphones, PCs, wearables and IoT.
This is where things get interesting. If you think about it, companies usually manage their mobile devices and PCs completely separately. Usually you'll have an MDM/MAM solution like Afaria to manage mobile devices, and a robust PC management solution like SCCM to manage Windows PCs. Although SAP does have some PC management features available via custom Afaria executable, in general most companies tend to go with the Microsoft tool SCCM to manage Microsoft PCs. When Microsoft enabled MDM on Windows 10 devices, however, that potentially made it possible for one singular MDM solution to realistically manage not only mobile devices, but all Windows PCs as well. Securityintelligence takes this line of thinking and extrapolates it out into the future: eventually companies will be able to have one solution that manages everything, including mobile devices, PCs, IoT, wearables, etc. Pretty much any device with a wifi chip. At that point you won't just have an MDM solution, you'll have an "everything" solution. In other words, a "UEM" solution.
You can already see MDM solutions trying to be "UEM" solutions now. Mobile Iron doesn't just do just mobile devices, they can manage anything with Windows 10 and are developing solutions to manage IoT devices too. Microsoft offers both SCCM and Intunes as cloud services. Airwatch offers laptop management and is looking for use cases for IoT. It looks like the industry sees the potential of being able to manage everything from one spot, and vendors are desperately trying to innovate their way to the top spot. The best value you can bring to a customer is being able to do everything for them.
What are my thoughts? Well, I don't think the term "UEM" will ever become popular. If you search "UEM" you'll struggle to get relevant hits. If I had to guess, it's because Google has already popularized the acronym EMM, or enterprise mobility management, in regards to their solution Android for Work. If you think about it, EMM and UEM are almost the same thing. My takeaway from securityintelligence's article isn't the new acronym, but that we're really living in an exciting time for mobile management. The IT world changed drastically when MDM was widely adopted, and now corporations all over the world are enabling their employees to work mobile. But now all that just seems like a first step. As everything becomes "smart" and connected, companies will want one central point to manage everything, including IoT, mobile devices, and computers. Although I'm not excited about the new acronym, I am excited about how the concept will be implemented in the industry.